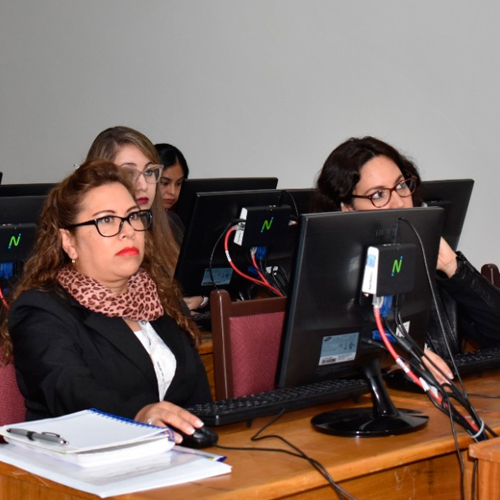 The State Prosecutor's Office, through the Directorate of the Specialized Prosecutor's Office for Juvenile Criminal Justice and Environmental Crimes in coordination with the School of Public Prosecutors, held the Specialized Training Course on Restorative Juvenile Justice on 3 and 4 October in Sucre.
The purpose of the course was to strengthen and develop cognitive, practical and attitudinal skills of prosecutors in the area on specialized updating in the System of Criminal Responsibility for Adolescents. The course began with generalities and characteristics of Restorative Juvenile Justice, to be applied in the investigation, procedure, execution of socio-educational measures and the mechanisms of Restorative Justice.
During the inauguration of the course, the General Secretary of the Public Prosecutor's Office, Edwin Quispe, highlighted that the team formed by the Director of the Specialized Prosecutor's Office for Juvenile Criminal Justice and Environmental Crimes, Vania Arroyo, Director of the School of Prosecutors, Eduardo Serrano and teachers Cecilia Bolívar, CDC consultant, and Adrián Piejko, Tutator Foundation, will carry out the implementation of Juvenile Criminal Justice in its true dimension and in environmental crimes, which are unexplored areas, but which give us the possibility of being able to innovate, because we are in a process of transformation of justice".
The content and structure of the course was explained by Adrian Piejko, a specialist in the subject. The consultant Cecilia Bolívar, referred to the Doctrine, Paradigms in Children and Adolescents, Restorative Justice, Generalities of Criminal Justice for Adolescents and Jurisdictional Procedures and Research.
"We have covered the challenge of training and specialization in Restorative Juvenile Justice for the Public Prosecutor's Office based on the reality of the national context, how we are functioning in Bolivia as a country promoting this Restorative Justice in a norm. We are very advanced in the mechanisms and we have great results and the Public Prosecutor's Office has the challenge of applying the restorative approach in its actions," explained Bolívar.
(With information from the Attorney General's Office)
Written by erbol.com.bo, Posted October 07, 2019
Source:
https://erbol.com.bo/seguridad/fiscales-de-materia-se-capacitan-para-replicar-contenidos-en-justicia-juvenil-restaurativa