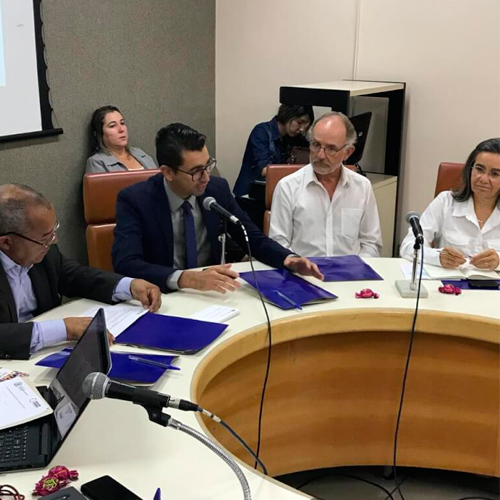 The meeting discussed the use of technology in the socio-educational system
The parliamentarians received a visit from representatives of the Tutator Foundation, a Swiss entity that uses technologies to reintegrate young people in conflict with the law. The meeting was also attended by representatives of the State Public Ministry, Instituto Promover (former Pro-Cerrado Foundation), the Municipal Education Secretariat, the Executive Support Group for Children and Adolescents (GECRIA), organizations that have projects in the area and young people from the Young Citizen Program.
Swiss Foundation Tutator has experience in the development of technologies at the service of youth reintegration systems in several countries, especially in Latin America. Tutator's president, Gilles Concordel, and the foundation's representative in Bolivia, Adrian Piejko, were present at the hearing.
The foundation has an agenda of visits to youth, child and adolescent support organizations in the capital. The institution carries out a work with satisfactory results in Latin American countries and presented some of the experiences of Honduras and Bolivia on Juvenile Criminal Justice and Persons Deprived of Freedom. Technological tools that can serve as a model for Brazil were presented.
The objective of the entity is to use technologies to integrate social services around the world, having a specific treatment for each need, generating a positive impact on lives. These are self-sustaining projects, where there is a guarantee of social data protection and security. Documented and well-defined processes are needed for the successful implementation of the software, which can be used for different contexts.
Written by Comunication, Posted April 17, 2019
Source: