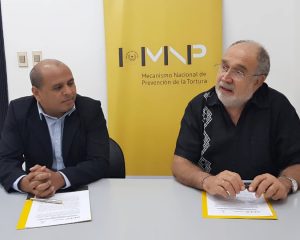 The National Mechanism for Torture prevention (MNP) and Tutator Foundation signed an agreement of interinstitutional action with the goal of promoting human rights full force in common areas of action, through coordination and encouraging different actions.
The agreement's signature was held this monday September 16th 2019 and was in charge of the comisionate José Antonio Galeano, for MNP, and the representative of Tutator foundation, Orlando Castillo.
Tutator foundation is a swiss institution that has the mission of using technology to greatly improve different social services such as justice, protection immigration, etc. It works against dehumanization of social services through automation tool design that turns the beneficiary again in a person, instead of being just a number or an statistic.
MNP has in its functions, establish and keep relationships in national and international level with public institutions, civil society organizations and academic entities, for the development of common actions for torture prevention.
In this action framework, it's agreed to carry out exchange activities, training, research and cooperation inside the competence area of the parts; Tutator Foundation and MNP engage themselves to link their technic team staff to contribute in MNP misional activities; and also conduct any other action or modality of exchange and cooperation.
The present agreement has a two years length from the subscription date and it can be renewed in common agreement of the parts.
Source:

http://www.mnp.gov.py/index.php/comunicacion/2015-08-23-04-11-31/112-mnp-y-fundacion-tutator-unen-esfuerzos-para-promover-los-derechos-humanos-y-la-prevencion-de-la-tortura?fbclid=IwAR25PjFhHMcIXh2HB7MPiIeI7mXCBQ5f4_Ks2RXjH4wQTlNigMPqSsUoZjw